Tweet
Have you ever been shown a powerpoint presentation that hurt your eyes? Or one that had grammar/design errors that distracted you from the message it was trying to convey? You don't need to be a powerpoint expert or layout designer to create clean, fool-proof computer presentations. If you know how to put together a seamless slide presentation it not only provides a visual outlet for your information, but also maintains your credibility.
Graphic designers like myself, love talking about why things aren't successful visually/organizationally. We may even make fun of it a little, but we make careers out of doing these things correctly. One thing we all can agree on: the best work is clean and simple.
Here, I'm going to go over the do's and don'ts of basic presentations, software, and safe exporting.
Presentations need to be clean, simple, and functioning in order to get the information through with clarity.
Don't #1: Bad Visuals
1. Visuals= the key to a great slide show
Collect your images. Visuals are key to a great slideshow. If you're getting them from an online source, like google images, make sure to select the option for large images. Many photos on the internet are purposely sized very small, and since your visual information should take up roughly ⅔ of every slide, a small photo can look unprofessional. Do not be tempted to stretch photos, because that can skew your image or take down the resolution. If you must size a photo down, make sure to constrain proportions. On a Mac, you can do this with by holding "option" and "shift". On a PC, the key command is "shift" and "alt".
Don't #2: Crazy Color Combinations
2. Text/color combinations
It's best to pick a background, or background color that is simple and doesn't distract too much and carry it through the entire powerpoint. The best color combinations are ones that contrast enough but don't compete and strain the eyes. There are a lot of websites on this subject, and a lot of research has been done. The safest combinations decided by most are black on white or white on black. Other safe choices are green and white, or blue and white. Colors that are too vivid together, like bright red text on a bright blue background, strain the eyes and makes the text almost look like it is shaking.
Don't #3: Too much content on slide
3. Content
Keep personal note cards or use the notes feature on powerpoint to keep the majority of your information. You should limit text on your presentation to just titles, main points and important quotes. When you type out your script of information on the slide, people tend to read along, and the information will seem repetitive.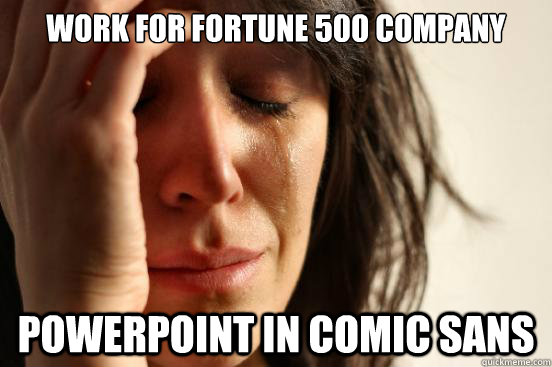 Don't #4: Inappropriate Font Choices
4. Text
Since viewers have this tendency to read anything you put on a screen in front of them, be considerate and make sure the type is large and the font style is legible. In the design community, it's pretty much agreed that the less font families you use in one presentation, the more cohesive and professional it appears. To achieve contrast using one font family, you can vary the weights, size, or use the italic part of the font.
5. Make Them Connect
The most beneficial thing you can do with your powerpoint presentation, is have visuals that supplement your message. So don't be afraid to load your slide show down with charts, graphs, and statistics. Just be sure to make them legible and don't put too much information on one slide. If you feel that a concept is based explained through some sort of illustration, it probably can.
6. Don't be scared to deviate a little from the world of Microsoft Powerpoint.
Open source sites:
Free presentation creation programs online allow you build slideshows and post them online for free.
Slideshare/Sliderocket: Both websites allow you to create an account and upload your powerpoint slides for free. This is useful because in the end, you are provided a link to your work, and you can open the link on any computer. No more fumbling around with getting powerpoint to open, or having Mac/PC transition errors. It's just one extra step, and it makes your presentation more accessible and professional.
Google docs/ Prezi:
Both are online sources are platforms to create your slideshow and have a place to view it online.
Google docs eliminates the dilemma of a team member that claims they can't help contribute because they don't have powerpoint. All you need is internet and a Gmail account, both of which many college students and professionals should already have. With Google docs, you can select the share option and all members can work on the presentation from ANY computer. It follows many of the same guidelines as Microsoft Powerpoint, so usability is really high. The technology has been around for a little while now and you probably know about it, but it's a valuable resource that keeps getting better and better with every update, and it's a truly a breakthrough in terms of team projects.
Prezi is a recently popular source that helps you build a creative presentation online, that's outside of box (compared to a typical slideshow) in that it's completely animated with Javascript and Jquery, and you don't even have to touch a lick of code. It's quickly becoming the new design standard and the website is completely user friendly. If you haven't already, I highly recommend setting time aside to play with both softwares before your next big presentation comes up. You won't regret it.
The best part about these sites is that it helps your slide show be more universally compatible as well as provide a simple way to give a uniquely designed presentation.
8. If the powerpoint won't play, it really doesn't matter how much time you put into it.
Basic Powerpoints can be exported to PDF's, uploaded online, or exported as screenshots. So pick one to back up your next presentation:
Exporting as a PDF:
Simply click file, "Save as".. and click "PDF".
PDF's are useful because all the links remain active and you can still highlight text to copy/paste if you ever need it.
Exporting images:
On Mac, it's fairly
simple to take screenshots, just hit Command Shift 4, and move each slide image from the desktop to a new file folder. All computers have a slide show view option, as you would photos, so it can view easily from there.
The down side=you will lose any custom animations (maybe this is a good thing?)
Don't be afraid to try these resources and try new things with your powerpoints because a lot of it is surprisingly user friendly.
A strong presentation, thriving with pictures, charts/figures, and is well organized keeps your story moving without being overwhelming. Limiting your text on the screen keeps the information from becoming repetitive. Color combinations and good layouts make the design look easy and professional. Don't fall victim to bad powerpoint making, you will lose credibility with a lot of your audience, and they may judge you pretty hard for it.